COVID-19 information
Dear customers, business partners and friends of hs art service austria,
We, the team of hs art service, are observing with great relief and joy that the measures in the fight against the spread of the Corona virus, which have been implemented by the Austrian government since mid-March and which the inhabitants of Austria have consistently complied with, are very clearly showing a positive effect.
We have adapted the company's work schedules to the newly implemented "Corona part time work model" and can therefore sustain all jobs for our employees. Due to the current clearly positive tendencies and the step-by-step re-activation of the general economy as well as the art and culture sector, we are ready to offer our art transportation, art storage and art handling services any time from now on – of course within the borders of the regulations and recommendations of the government. We ask you to send us your request as usual and hope that we can assist you with our services.
Because we obviously still take the virus very serious, we take all the necessary safety precautions on jobs, as well as at the office and our art storage facilities. These precautions include keeping a safe distance, avoiding any physical contact, using protective attire and carefully following hygienic rules.
Like before we are always available for your questions. Our contact information can be found on here our website.
We will continue to keep you updated about the most recent developments and wish you good health and all the best in these challenging times!
Franz Feldgrill
Siegfried Schöffauer
Manfred Auer
Management board
hs art service austria
hs art service austria is one of the internationally leading art handling companies. The hs art service austria-group cooperates globally with well-known museums, galleries and art collections and processes art transports of any size, from packaging and transport to installation in the exhibition space.
hs art service austria
We transport value
The hs art service austria Group has decades of experience in handling sensitive articles. Our corporate group is a full-service supplier in the following areas:
Transporting artworks and arranging logistics for exhibitions
Special packaging
Art warehouses and bonded warehouses
Performing customs formalities
Museum and Exhibition Service
Full service for art fairs
Removal and relocation service
Vienna's new Fine Art Warehouse
hs art service austria has extended its art competence center by a new high-tech fine art warehouse. Built to the very latest standards, the fine art warehouse in Vienna's 23rd district was officially opened in September 2018. Read more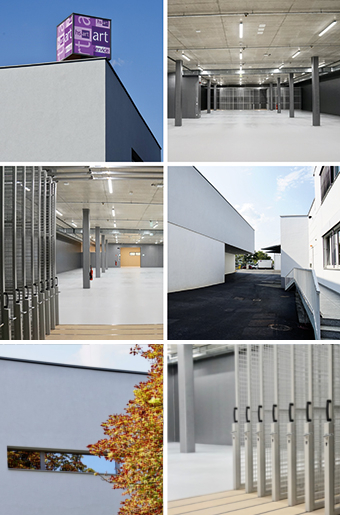 Latest References
Opening Exhibition: The Beginning

05.2020 - 08.11.2020

Albertina Modern, Austria

Orte des Exils

25.07.2020 - 22.11.2020

Museum der Moderne, Austria

The Cindy Sherman Effect

29.01.2020 - 19.07.2020

Kunstforum Wien, Austria

Goethes italienische Reise

26.06.2020 - 26.10.2020

Tiroler Landesmuseum Ferdinandeum, Austria

Der Meister von Mondsee

07.02.2020 - 13.09.2020

Belvedere Museum Wien, Austria

Judd

01.03.2020

MoMA, New York, USA

ANDY WARHOL EXHIBITS a glittering alternative

26.09.2020 - 31.01.2021

mumok, Austria

Josef Bauer - Demonstration

02.06.2020 - 04.10.2020

Lentos Kunstmuseum Graz, Austria

Madame D'Ora

20.02.2020 - 04.01.2021

Neue Galerie New York, USA
The art of movement
hs art service austria is a member of ARTIM, a world-wide network of artwork forwarding companies dedicated to maximum quality, state-of-the-art security measures and individual customer support. We are an official IATA agent and regulated agent. hs art service austria has earned the certification under the quality austria standard EN 16648:2015 "Conservation of Cultural Heriage - Tranportation Methods".